Илья Старостенко
Tuesday, September 8, 2020
75th Anniversary of Nuclear Industry in Russia
On September 8, a stamp dedicated to the 75th Anniversary of Nuclear Industry in Russia was put into postal circulation


The nuclear industry in Russia dates its history back to August 20, 1945, when it was decided to establish the First General Directorate under the USSR Council of People's Commissars. As early as the following year, the first in Europe and Asia self-sustaining chain reaction of uranium fission was implemented under Igor Kurchatov's guidance in the F-1 physical reactor in Moscow.
The next step was commissioning of the first A-1 commercial reactor for plutonium production in the Urals. In 1954, the world's first Obninsk nuclear power plant with the AM (Atom Mirny meaning peaceful atom in Russian) reactor was put into operation. In 1959, the flag was raised on the world's first nuclear-powered icebreaker Lenin.
Today, State Atomic Energy Corporation Rosatom is a global company working in dozens of countries around the world on five continents and a recognized technology leader inside the country, which has gone far beyond the energy sector.
The postal stamp provides an image of the nuclear industry staff workers against the facilities related to its activities. The design makes use of the logo and corporate identity of State Corporation Rosatom.
Design Artist: S. Ulyanovsky.
Face value: 54 rubles.
Stamp size: 65×32.5 mm, sheet size: 154×158 mm.
Emission form: a sheet with formatted margins with 8 (2×4) stamps.
Quantity: 152 thousand stamps (19 thousand sheets).
Sheet: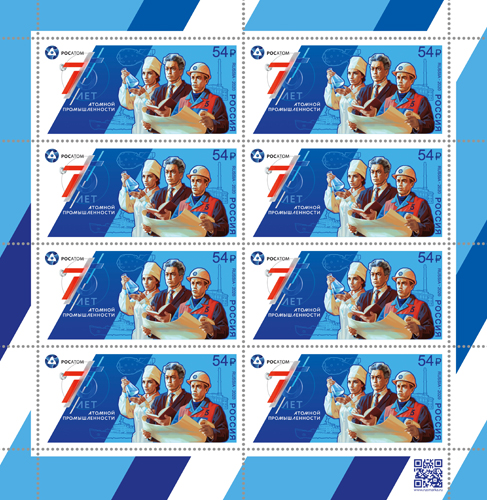 In addition to the issue of the postal stamp, JSC Marka will produce First Day Covers and special cancels for Moscow, St. Petersburg, Murmansk and Pevek of the Chukotka Autonomous District.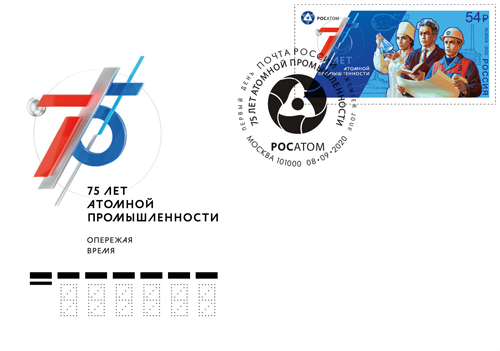 Special cancellation marks: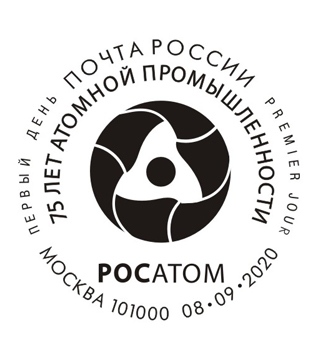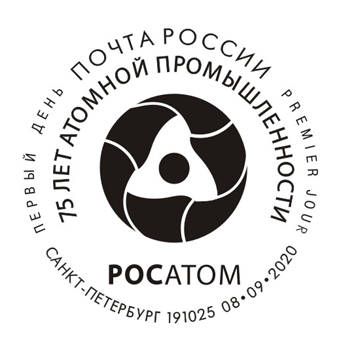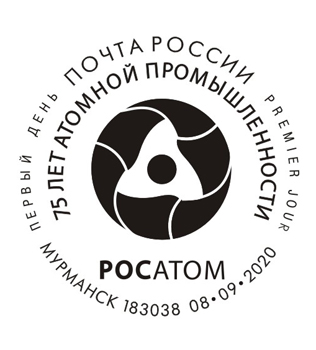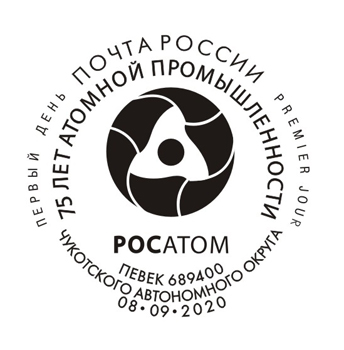 Souvenir packs in cover: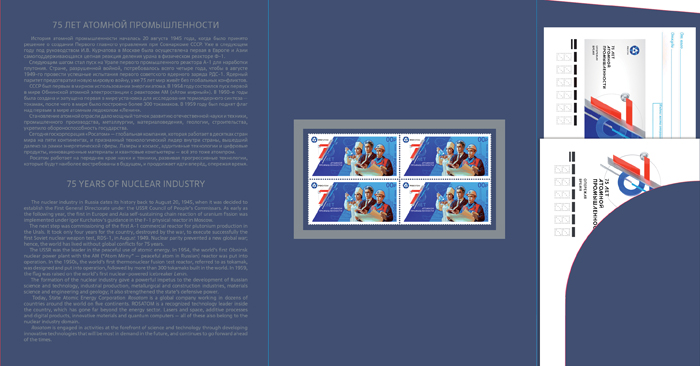 ---