Илья Старостенко
Wednesday, September 9, 2020
The Candle of Memory Monument
On September 8, a postal block dedicated to the Candle of Memory Monument was put into postal circulation


The Candle of Memory, one of the major monuments commemorating heroic citizens and defenders of Blockaded Leningrad, was unveiled in a solemn ceremony in Jerusalem (the State of Israel) on January 23, 2020.
The monument to the survivors of the Siege of Leningrad is an eight-meter stele with symbols of Leningrad on it. The foundation of the monument contains a capsule with earth from the Piskarevskoye Memorial Cemetery in St. Petersburg, where hundreds of thousands of victims of the Siege of Leningrad are buried.
The main artistic feature of the monument with silhouettes of people is made of bronze and is located in the upper part of the stele. In the dark, when the Memorial is illuminated from the inside, the stele resembles an eternally burning candle.
The postal stamp provides an image of the Candle of Memory Monument; the margins of the postal block feature Leningrad during the Siege of the city, coats of arms of St. Petersburg and Jerusalem and a fragment of the quotation on the Monument.
Design Artist: A. Moskovets.
Face value: 100 rubles.
Block size: 80×77 mm, stamp size in the block: 26×58 mm.
Quantity: 27 thousand blocks.
In addition to the issue of the postal block, JSC Marka will produce First Day Covers and special cancels for Moscow and St. Petersburg.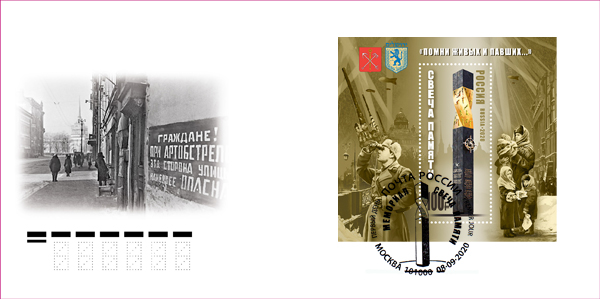 Special cancellation marks: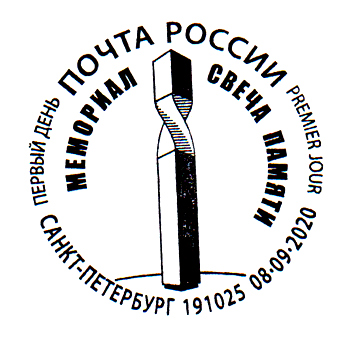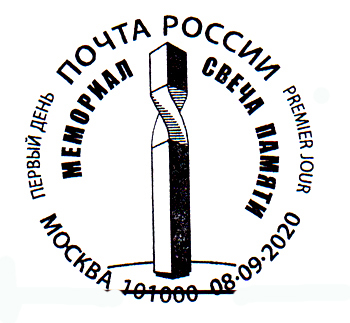 ---