Александр Старостенко
Wednesday, September 16, 2020
100th Anniversary of the Exodus of the Russian army and the end of the Civil War in the European part of Russia
On September 16, a stamp dedicated to the 100th Anniversary of the Exodus of the Russian army and the end of the Civil War in the European part of Russia was put into postal circulation


The Evacuation of the Crimea (November 13-16, 1920) was an event of the Russian Civil War associated with the evacuation of the Russian army units and civilians from the Crimea over sea.
During the evacuation, 126 ships, small boats and tug-boats left the ports of the Crimean Peninsula (Sevastopol, Yevpatoriya, Kerch, Feodosia, Yalta) with up to 146.000 people, not including the crews, on board. Among the passengers there were elderly people, women and children. However, the majority were various military officers of the Russian army of General Baron Pyotr Wrangel.
The postal stamp features a fragment of painting by D. Belyukin White Russia. Exodus (1992–1994).
Design: A. Povarikhin.
Face value: 54 rubles.
Stamp size: 50×50 mm, sheet size: 174×178 mm.
Emission form: a sheet with formatted margins with 6 (3×2) stamps.
Quantity: 108 thousand stamps (12 thousand sheets).
Sheet: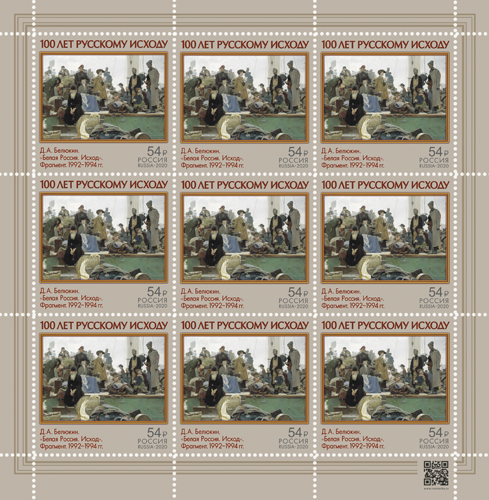 In addition to the issue of the postal stamp, JSC Marka will produce First Day Covers and special cancels for Moscow and Sevastopol.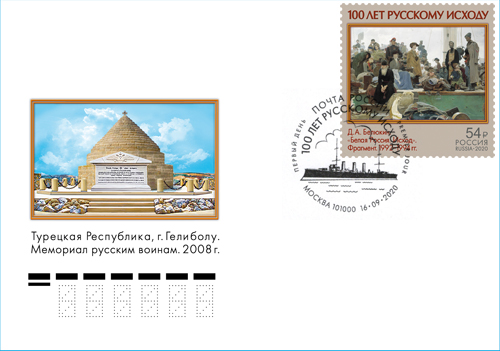 Special cancellation marks: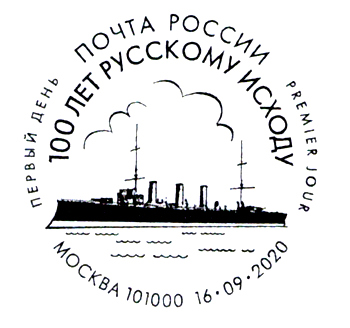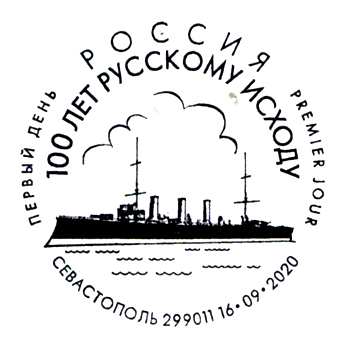 ---