Александр Старостенко
Tuesday, September 22, 2020
Academic lawyer Lev Samoilovich Yavich
On September 22, a stamp dedicated to academic lawyer Lev Samoilovich Yavich was put into postal circulation


Lev S. Yavich (1919-2004) was a Soviet academician lawyer, PhD in Law, Professor. His scientific papers covered the problems of philosophy of law, and theory of state and law.
His principal papers are Soviet law as the regulator of social relations in the USSR (1957); and General theory of law (1976).
The stamp provides a Lev S. Yavich's portrait against his fundamental articles on the theory of law.
Design Artist: R. Komsa.
Face value: 40 rubles.
Stamp size: 37×37 mm, sheet size: 131×137 mm.
Emission form: a sheet with formatted margins with 9 (3×3) stamps.
Quantity: 99 thousand stamps (11 thousand sheets).
Sheet: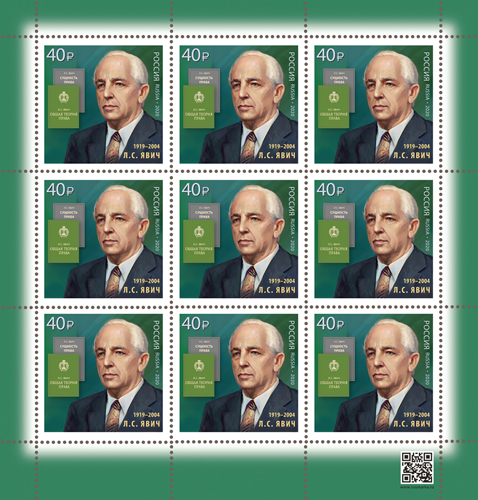 In addition to the issue of the postal stamp, JSC Marka will produce First Day Covers and special cancels for Moscow and St. Petersburg.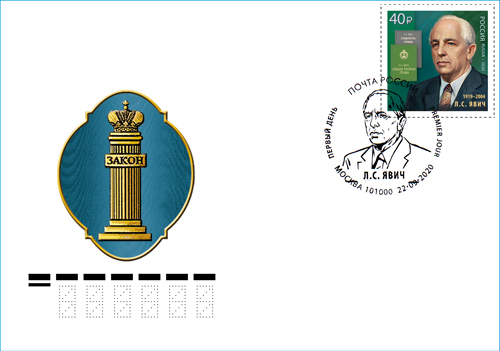 Special cancellation marks: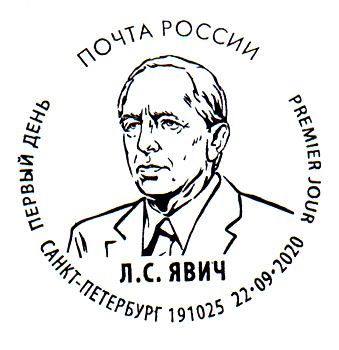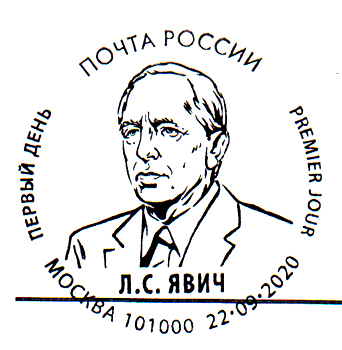 ---