Александр Старостенко
Tuesday, October 6, 2020
Streltsov. Modern Russian Cinematography series
On September 24, a stamp dedicated to the release of the Streltsov film was put into postal circulation in the Modern Russian Cinematography series


Streltsov is a Russian sports drama feature film produced by Rock Films studio, Central Partnership studio, Nikita Mikhalkov' Trite Studio and Russia 1 TV channel with support from the Cinema Fund. The partners in the film production were also the Russian Football Union and the Torpedo Football Club.
This is a reality-inspired story about football player Eduard Streltsov who was one of the greatest Soviet sportsmen of the XX century.
The postal stamp provides an image of the poster for the Streltsov film with portraits of the main characters.
Design: Kh. Betredinova.
Face value: 43 rubles
Stamp size: 42×30 mm; sheet size: 146×174 mm
Form of issue: sheet with illustrated margins of 15 (3×5) stamps.
Quantity: 180 thousand stamps (12 thousand sheets).
Sheet: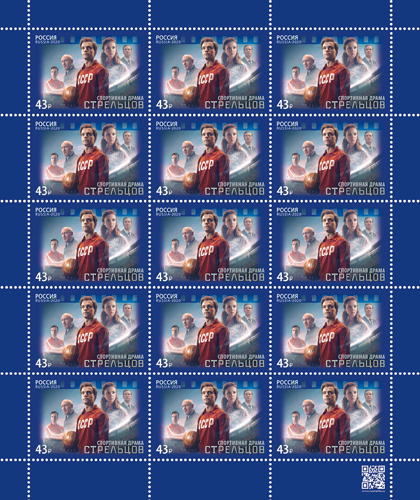 In addition to the issue of the postal stamp, JSC Marka will produce First Day Covers and special cancels for Moscow.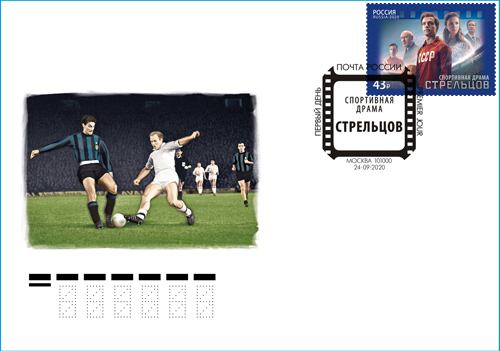 Special cancellation marks: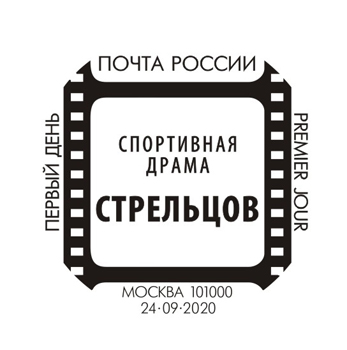 ---