Александр Старостенко
Friday, October 9, 2020
400th Birh Anniversary of religious leader Arch-priest Avvakum
On October 6, a stamp dedicated to the 400th Birth Anniversary of religious leader Arch-priest Avvakum was put into postal circulation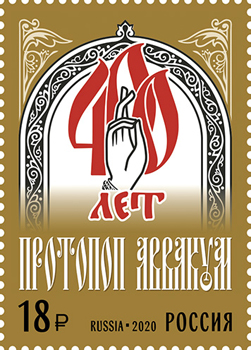 Avvakum Petrov (or Avvakum Petrovich) (1620-1682) was an Arch-priest of the Russian Church and the author of polemical writings, a writer.
In 1652, Arch-priest Avvakum was among the ardent opponents of the reform carried out by the Head of the Church, Patriarch Nikon, and was one of the first to be persecuted. The Arch-priest continued to punish severely his flock for their sins and took great pains in public abuse of the reforms. After he had sent a letter with seditious content to the Tsar, following the decision of the Council of 1681-1682, he and his three adheres were burned alive in a log house on April 24, 1682.
Avvakum is considered to be the author of 43 works, the most famous of which were Vita, Interpretation Book, Rebuke Book, and Counseling Book. Old-Ritualist Churches venerate him as a holy martyr.
The postal stamp provides a logo of the celebration of the 400th Birth Anniversary of Arch-priest Avvakum.
Design Artist: A. Moskovets.
Face value: 18 rubles.
Stamp size: 30×42 mm; sheet size: 170×152 mm.
Emission form: a sheet with 15 (5×3) stamps.
Quantity: 150 thousand stamps (10 thousand sheets).
Sheet: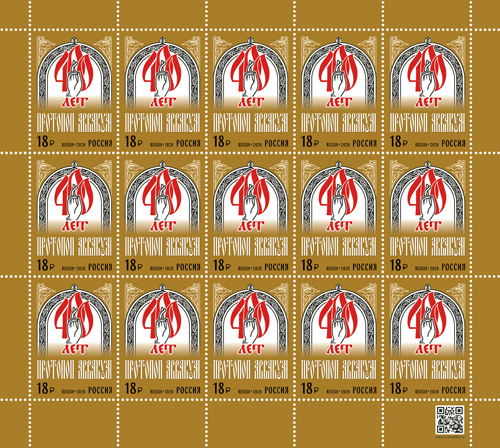 In addition to the issue of the postal stamp, JSC Marka will produce First Day Covers and special cancels for Moscow and Nizhniy Novgorod.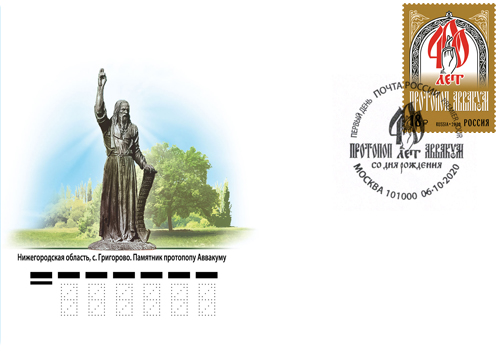 Special cancellation marks:
In addition to the issue of the postcard with a commemorative stamp, JSC Marka will produce special cancels for Moscow and St. Petersburg.

Design Artists: S. Ulyanovsky, R. Komsa.
Quantity: 7.5 thousand postcards.
---