Александр Старостенко
Thursday, October 15, 2020
650th Anniversary of the Simonov Monastery
On October 15, a stamp dedicated to the 650th Anniversary of the Simonov Monastery was put into postal circulation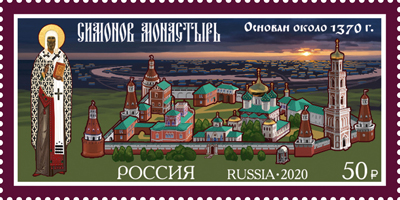 The Simonov Monastery was established in about 1370 by reverend Feodor of Rostov, a disciple of St Sergius of Radonezh. From the very early days of its foundation, the Simonov Monastery protected the most dangerous southern borders of Moscow. Therefore, its walls were made as ramparts rather than just monastic, and frequently the monks had to become warriors.
Among the few, the Simonov Monastery was regarded stavropegial, that is, it was managed directly by the Patriarch. In 1923, a museum was opened in the buildings of the monastery, which put persistent efforts into archaeological work. It existed until 1929. Then, during the night of January 21, 1930, on the eve of the death anniversary of V. Lenin, all the churches, the greater part of the walls and towers were blown up. As soon as three weeks later, the ZIL Palace of Culture construction according to the Vesnins brothers' project started on this site.
In 1995, the Temple of the Tikhvin Icon of the Mother of God of the Simonov Monastery was restored.
The postal stamp provides an image of the architectural ensemble of the Simonov Monastery and its founder Feodor of Rostov.
Design Artist: S. Ulyanovsky.
Face value: 50 rubles.
Stamp size: 65×32.5 mm; sheet size: 154×190 mm.
Emission form: a sheet with formatted margins with 9 (2×5) stamps and a coupon.
Quantity: 117 thousand stamps (13 thousand sheets).
Sheet:
In addition to the issue of the postal stamp, JSC Marka will produce First Day Covers and a special cancel for Moscow, and a maxi-card.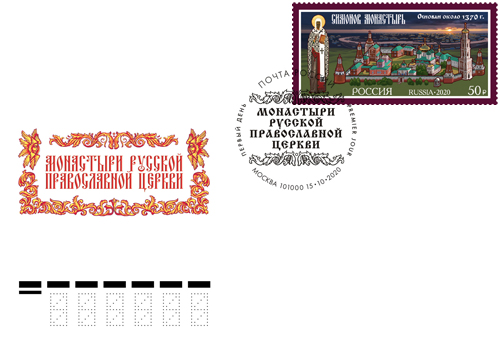 Art Unmarked Card: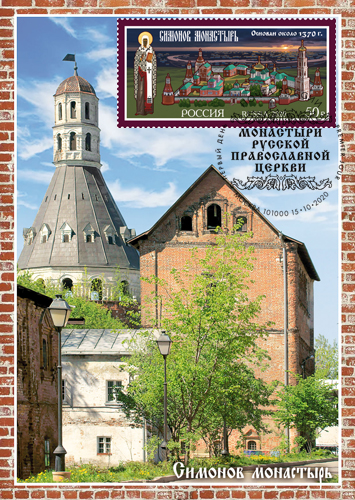 Special cancellation marks: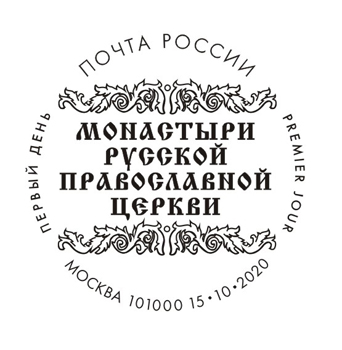 ---