Александр Старостенко
Thursday, January 14, 2021
The Trinity-Hodigitria stavropegial Zosima Hermitage Convent
On January 14, a stamp dedicated to the Trinity-Hodigitria stavropegial Zosima Hermitage Convent will go into postal circulation in the Monasteries of Russia series
The Zosima Hermitage Convent of the Russian Orthodox Church is located in the namesake village in the Novofyodorovskoye settlement of the Troitsk Administrative District of Moscow.
The monastery was founded in 1826 in the Vereysky County of the Moscow Province by monk Zosima and his spiritual daughters. The sorority was arranged on the directive of Filaret, the Metropolitan of Moscow. In 1856, the community was transformed to the monastery, which was closed in May, 1929.
The monastery was revived as a convent in August, 1999, first, as a metochion of the Moscow Novodevichy Monastery, and then, on March 7, 2000, the Sacred Synod took a decision to open the Trinity-Hodigitria Zosima Hermitage as a self-sustained monastery.
The postal stamp provides an image of the Zosima Hermitage general view during its heyday and the image of Reverend Zosima (Verkhovsky), the monastery founder.
Design Artist: S. Ulyanovsky.
Face value: 50 rubles.
Stamp size: 65×32.5 mm, sheet size: 154×190 mm.
Emission form: a sheet with formatted margins (2×5) with 9 stamps and a coupon.
Quantity: 126 thousand stamps (14 thousand sheets).
Sheet: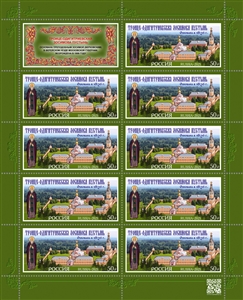 In addition to the issue of the postal stamp, JSC Marka will produce First Day Covers and a special cancel for Moscow, as well as an illustrated envelope with postal stamps and a label inside.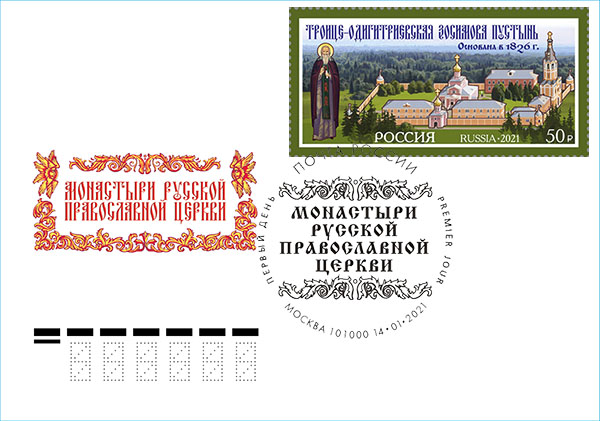 Special cancellation marks: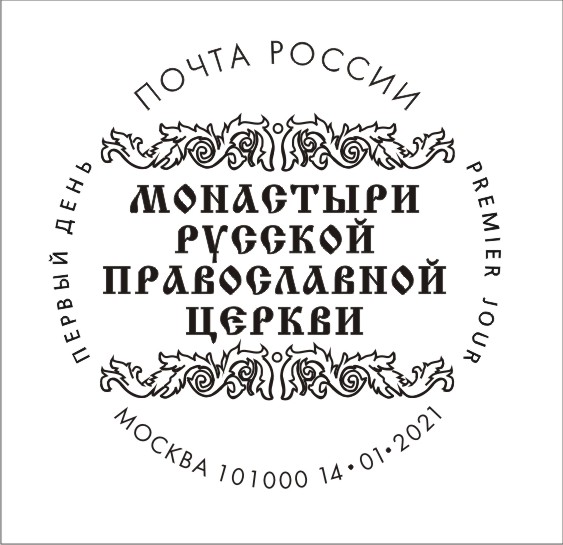 ---