Александр Старостенко
Monday, March 1, 2021
25th anniversary of Russia's accession to the Council of Europe
On February 28, a postal stamp dedicated to the 25th Anniversary of Russia's accession to the Council of Europe membership will go into postal circulation.

The Council of Europe is the oldest international political organization on the continent; it was founded in 1949.
Currently, it has 47 member states including 21 states of Central and Eastern Europe. The headquarters are in Strasbourg (France).
The Russian Federation joined the Council of Europe on February 28, 1996, and thereby became its 39th member state.
Since July 1996, the Permanent Mission of the Russian Federation to the Council of Europe has been operating in Strasbourg.
The postal stamp provides an image of the map of the Council of Europe member countries and the inscription "25 years" in the colors of the official flag of Russia.
Design Artist: I. Ulyanovsky.
Face value: 52 rubles.
Stamp size: 37×37 mm, sheet size: 131×138 mm.
Emission form: a sheet with formatted margins with 9 (3×3) stamps.
Quantity: 153 thousand stamps (17 thousand sheets).
Sheet:
In addition to the issue of the postal stamp, JSC Marka will produce First Day Covers and special cancels for Moscow and St. Petersburg, as well as an illustrated envelope with the postal stamp and a First Day Cover with a cancel for Moscow inside.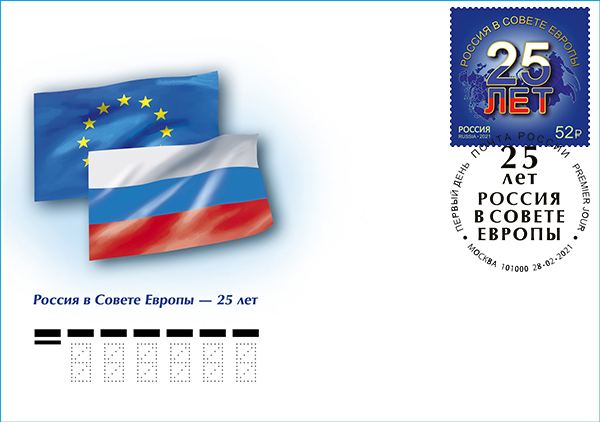 Special cancellation marks: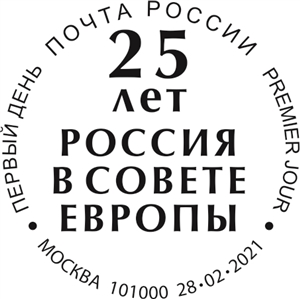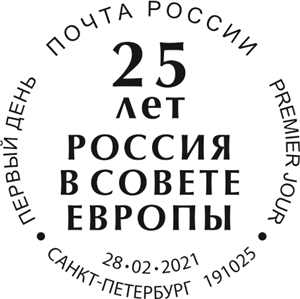 Souvenir set in art cover "Russia's accession to the Council of Europe"
---