Александр Старостенко
Friday, March 12, 2021
150th anniversary of the birth of the artist Igor Emmanuelovich Grabar
On March 12, a postal block dedicated to the 150th anniversary of the birth of the artist Igor Grabar was put into circulation.
Igor E. Grabar (1871–1960) was a painter, restorer, educator, museum worker, professor.
The most well known of his pictures are February Azure (1904), Cornflowers. A group portrait (1914), Pears on a blue tablecloth (1915), Self-portrait with a palette (white coat) (1934).

The margins of the postal block provide an image of Self-portrait with a palette (white coat) (1934, State Tretyakov Gallery) by I. Grabar against the background of the artist's workroom; the stamp features his painting Frost. Sunrise (1941, V.P. Sukachov Irkutsk Regional Art Museum).

Design Artist: O. Savina.
Face value: 150 rubles.
Block size: 124×83 mm, stamp size in the block: 50×37 mm.
Quantity: 30 thousand blocks (first emission type); 5.5 thousand blocks (second emission type).
Тираж: 30 тыс. (1-я форма выпуска); 5,5 тыс. (2-я форма выпуска).
In addition to the issue of the postal block, JSC Marka will produce First Day Covers and special cancels for Moscow and St. Petersburg; besides, an illustrated envelope for the postal block with a label and a First Day Cover with cancellation for Moscow and the second emission type: an imperforated postal block on canvas-type designer paper will be issued.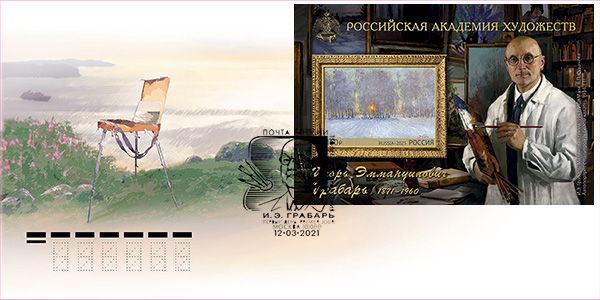 Special cancellation marks: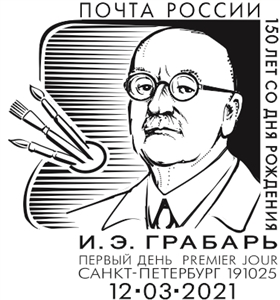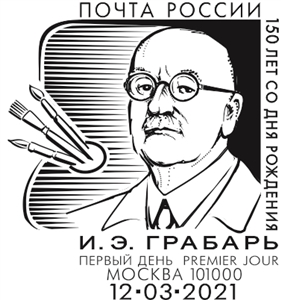 Souvenir set in art cover "150 years since the birth of I. E. Grabar "
---