Александр Старостенко
Tuesday, April 27, 2021
Russian Peace Foundation
On April 27, a postage stamp dedicated to the International Public Foundation "Russian Peace Foundation" was issued.
The Russian Peace Foundation is the legal successor of the Soviet Peace Foundation, established in April 1961. On March 27, 2003, the RFM was transformed into the International Public Foundation "Russian Peace Foundation". The Russian Peace Foundation has branches in 56 regions of Russia, a branch in the Republic of Bulgaria, and representative offices in the United States and Canada.
Main activities: promotion of peace, friendship and harmony between peoples, development of humanism and charity, charity, prevention of national, religious and social conflicts, protection of human rights, preservation of the environment, development of international cooperation, scientific, cultural and youth exchanges.
The Russian Peace Foundation implements permanent all-Russian charitable and humanitarian programs: "People's Memory", "Peace and Culture", "Peace and Youth", "Peace and Harmony", "Children of Russia", "Care" and others.
The RFM is registered with the UN and has the status of a participant in the Council of Europe. For a number of years, the Foundation has been involved in the Northern Kallot movement, which unites the peacekeepers of Sweden, Norway, Finland and Russia. RFM was awarded a diploma of the Office of the United Nations High Commissioner for Refugees in the Russian Federation for many years of cooperation in familiarizing the Russian public with the problems of refugees.
The postage stamp depicts the official logo of the foundation against a tricolor background.
Artist-designer: M. Bodrova.
Nominal value: 30 rubles.
Stamp size: 37×37 mm, sheet size: 152×152 mm.
Product form: a sheet of 9 (3×3) stamps.
Circulation: 162 thousand stamps (18 thousand sheets).
Sheet:
In addition to the issue of the postage stamp, the envelopes of the first day were issued and a special stamp was made for Moscow.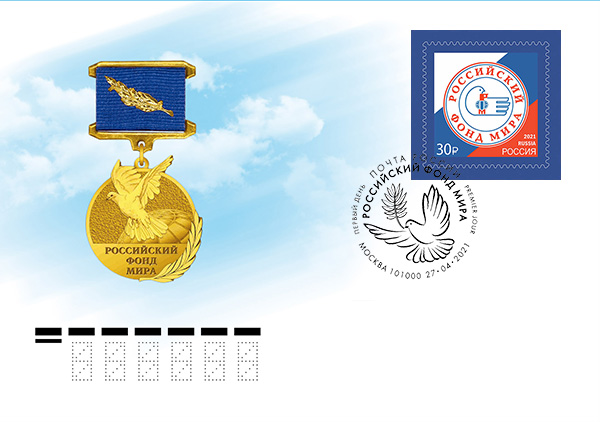 Special cancellation marks: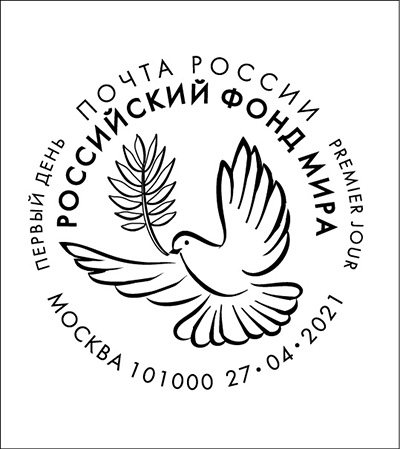 ---