Александр Старостенко
Monday, May 31, 2021
Parade cars 2021
On May 29, four stamps dedicated to people's cars went into postal circulation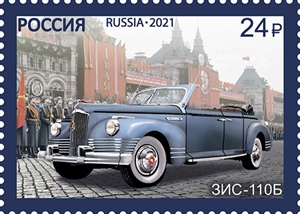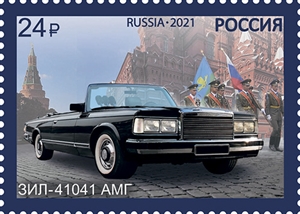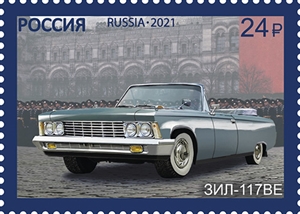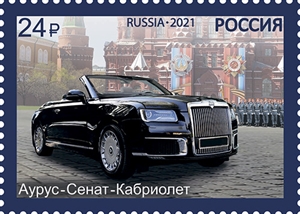 Parade cars are parade limousines that appear in public once a year — at the Victory Day Parade on May 9. The tradition of commanding the parade from the wheels appeared in the USSR. Before that, the warlords pranced on horses. The first domestic limousine for parades ZIS-110 was created in 1945 in the image and likeness of the American "Packard". At the same time, there was a tradition to paint limousines with light gray nitroemal-the color of the marshal's greatcoat. The ceremonial limousine is a special purpose car, which was created using the most advanced technologies of those times. Luxury car interior, electric mirrors. Instead of the right front seat, there are microphones and a handrail, since the passenger has to stand all the time.
ZIS-110B-phaeton body type, produced in 1949-1957. ZIS-110B participated in military parades, worked as a taxi, and cameramen used them for filming. The ZIS-110B phaetons were painted in black, gray, gray-blue and beige.
ZIL-117VE-body type passenger convertible. Top-class ZIL-117VE cars were produced from 1973 to 1979. They were intended mainly for participation in military parades and serving party and state leaders. As you know, the three parade copies were executed in gray-green color and differed from ordinary phaetons in the absence of a seat next to the driver, the presence of a microphone stand and a chrome handrail for "safety" of the Parade host. The remaining cars were produced in black and gray.
ZIL-41041 AMG-parade convertible from the Nizhny Novgorod company "Atlant Delta" created in 2010 for the Victory Parade in the amount of 4 copies. The car is a hybrid of a 2007 GMC Sierra 1500 pickup truck and a body from ZIL-41041. The body of the four-door ZIL sedan was converted into a two-door convertible. The car was used in parades from 2010 to 2018.
Aurus Senat Cabriolet is created on the basis of the executive sedan "Senate" specifically for Victory Parades. The development of the entire family of cars was conducted since 2012 by the state scientific center "NAMI". Two cars took part in the Victory Day Parade in Moscow on May 9, 2019. Designed for the commander of the Parade and the Minister of Defense of the Russian Federation.
The postage stamps depict the cars ZIS-110B, ZIL-117VE, ZIL-41041 AMG and Aurus-Senate-Convertible.
Artist-designer: I. Ulyanovsk.
Nominal value: 24 rubles. each stamp.
Stamp size: 42×30 mm, sheet size: 104×153 mm.
Product form: a sheet with decorated margins of 8 (2×4) stamps.
Circulation: 256 thousand stamps (32 thousand sheets).
Sheet:
In addition to issuing the postage stamps, the first day envelopes have been issued and the courtesy stamps for Moscow and St. Petersburg made, plus the maximum cards, an art envelope, inside - the postage stamps, a vignette, the first day envelopes with cancellation for Moscow.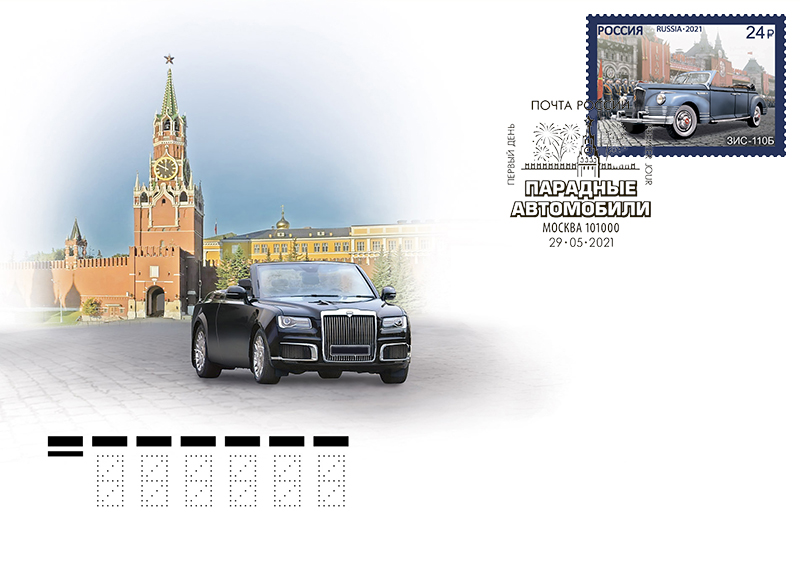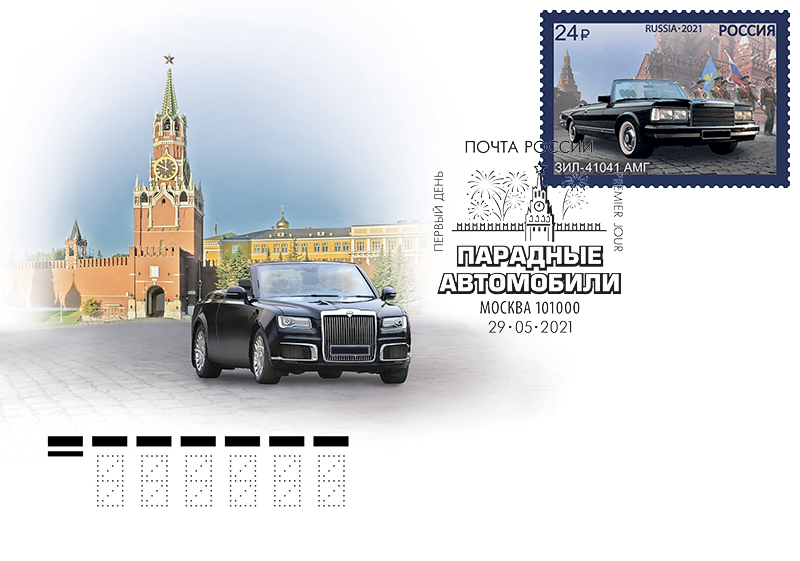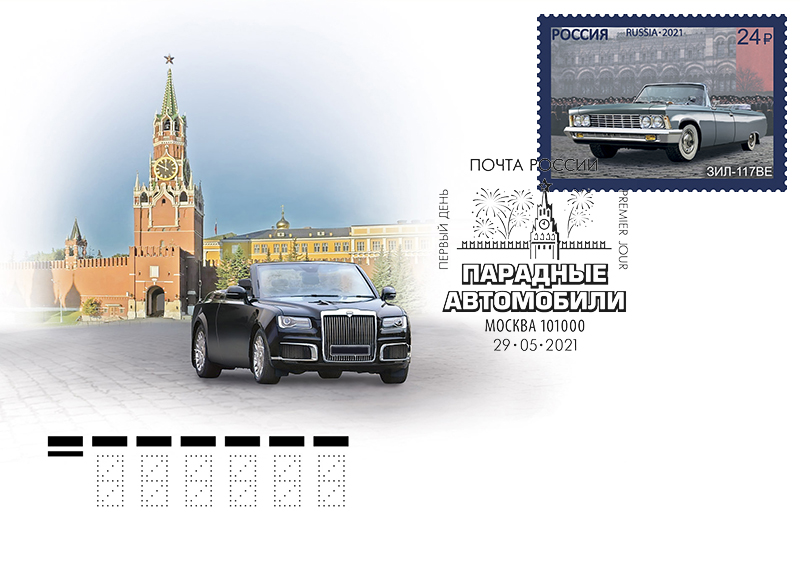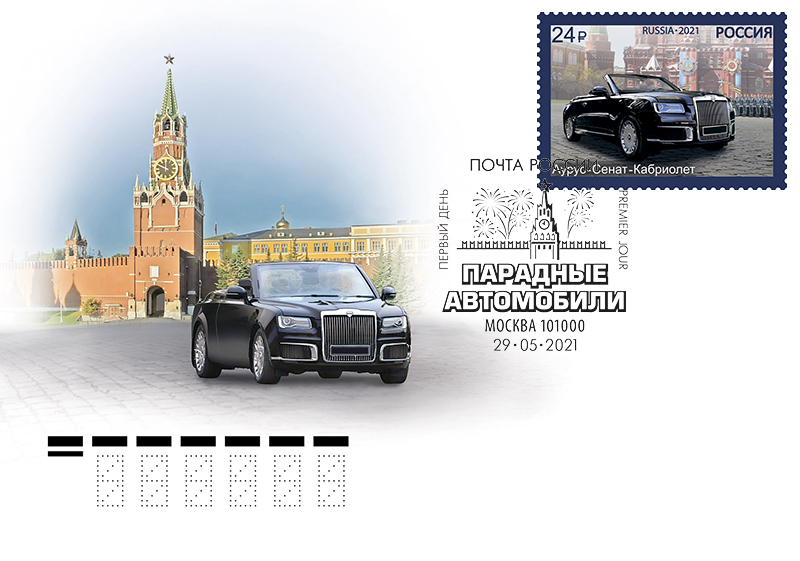 Art Unmarked Card: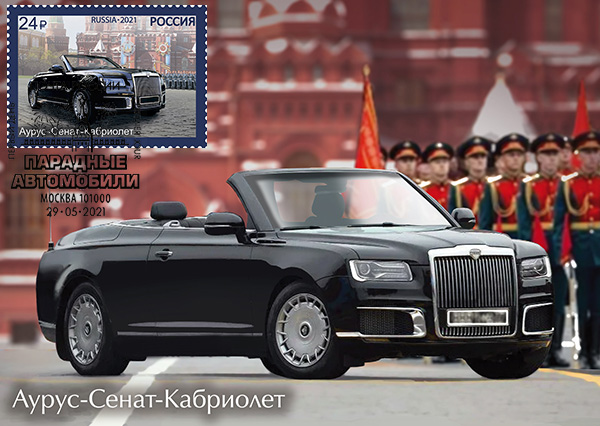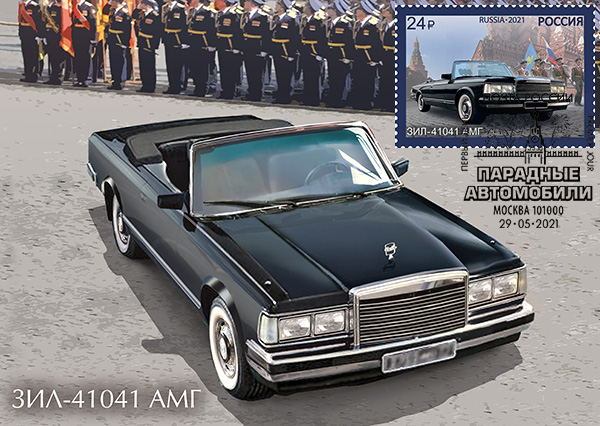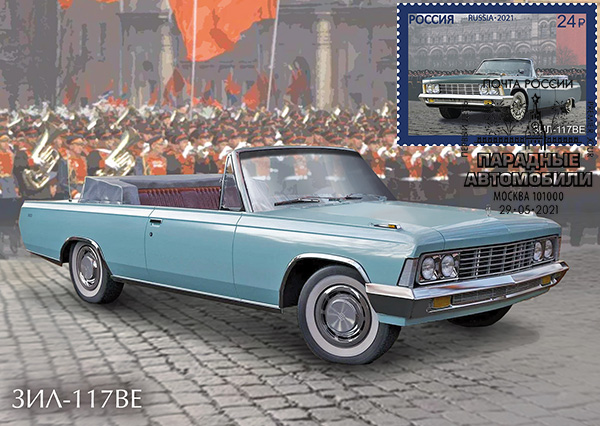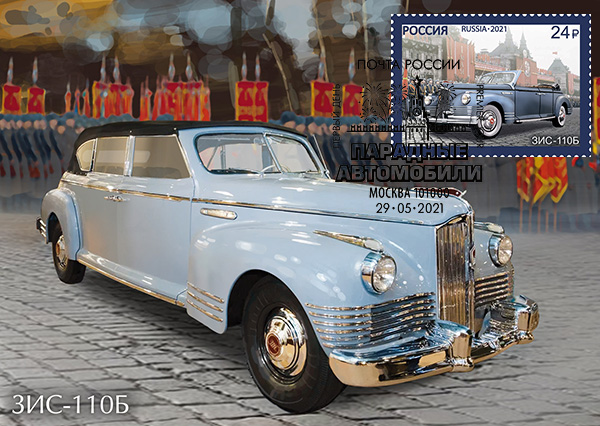 Special cancellation marks: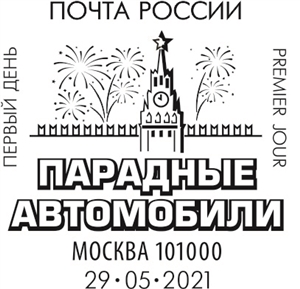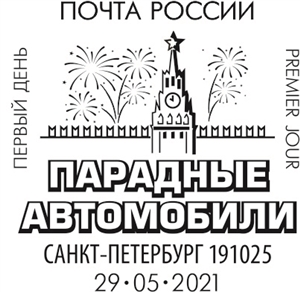 Souvenir set in art cover "Parade cars":
---
Tags:
Stats:
Comments: 0
Views: 132