Александр Старостенко
Thursday, June 10, 2021
100 years of the Yasnaya Polyana Estate Museum
On June 10, a postal block dedicated to the 100th anniversary of the Yasnaya Polyana Estate Museum was put into circulation.
Yasnaya Polyana is a manor in the Shchekinsky district of the Tula region, founded in the XVII century and belonged first to the Kartsev family, then to the Volkonsky and Tolstoy families. In it, on August 28, 1828, Leo Tolstoy was born. For more than fifty years, he lived in the estate, he wrote about two hundred works, including such as "War and Peace", "Anna Karenina", many chapters of the novel "Resurrection".
The main role in creating the appearance of the estate was played by the writer's grandfather-Prince Nikolai Sergeyevich Volkonsky. Yasnaya Polyana manor begins with the entrance gate, on both sides of which are installed ancient stone towers, built by N. S. Volkonsky. For many years, the towers served as a shelter from the weather for the guards who guarded the estate and opened the massive iron gates. The towers were hollow inside, and the watchmen were sheltered from the weather. To the left of the entrance is a small house called "kamenka". The gardener lived here. In the 1890s, there was a school for peasant children in Kamenka, where Tolstoy's eldest daughters, Tatyana Lvovna and Maria Lvovna, taught.
In 1921, the estate of Leo Tolstoy was turned into a museum by the Resolution of the All-Russian Central Executive Committee (VTSIK). Tolstoy's daughter, Alexandra Lvovna, was appointed" Commissioner-Curator " of the museum.
The estate, together with the surrounding forests, fields, gardens and other memorial objects, has been turned into a museum-reserve, which has since 1986 the status of a State Memorial and Nature Reserve, and since 1993 — the status of a cultural object of special importance.
The postage stamp depicts the house of Leo Tolstoy, in the fields of the post block — Sofia Andreevna and Lev Nikolaevich Tolstoy, the towers of the entrance.
Artist: A. Kartashov, designer: E. Khripunova.
Design: M. Bodrova.
Nominal value: 100 p.
Block size: 94×60 mm; stamp size per block: 50×37 mm.
Circulation: 30 thousand.
In addition to the issue of the postal block, envelopes of the first day were issued and special postmarks were made for Moscow, St. Petersburg and Yasnaya Polyana in the Tula region.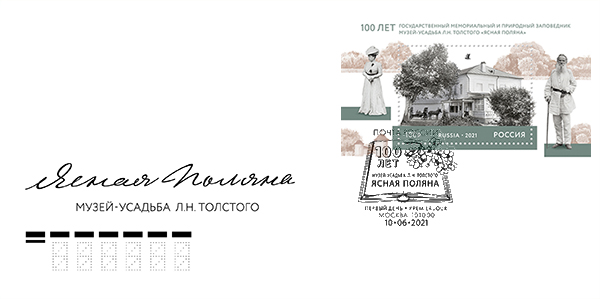 Special cancellation marks: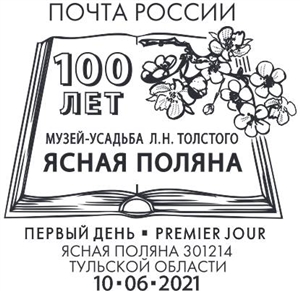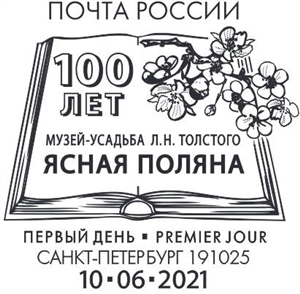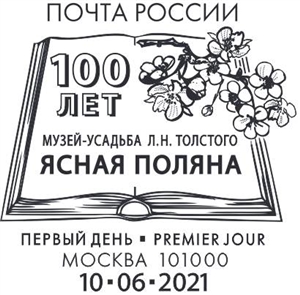 ---