Александр Старостенко
Friday, August 6, 2021
950 years of Rybinsk, Yaroslavl region
On August 6, a stamp dedicated to the 950th anniversary of Rybinsk, Yaroslavl Region, went into postal circulation
Rybinsk is the second largest city in the Yaroslavl region. It is part of the Central Federal District of the Russian Federation. The population is 182,383 people (2021). The city is considered the successor of the settlement of Ust-Sheksna, which was located on the other bank of the Volga from the historical Rybinsk. The first chronicle mention of Ust-Sheksna dates back to 1071, which makes Rybinsk one of the five oldest cities in the region. Rybinsk received the status of the city in 1777 by the decree of Catherine II "On the transformation of the Rybnaya Sloboda into the city of Rybnaya". Before the October Revolution, it was the largest grain trading center in Russia, the transshipment center of the Mariinsky water system, nicknamed the "capital of boatmen". In Soviet times, the engine-building plant, now known as PJSC UEC-Saturn, became the basis of the city's economy. After the construction of the Rybinsk hydroelectric power station in the 1930s, the Rybinsk reservoir, the largest artificial reservoir in the world for its time, appeared to the northwest of the city.
According to the data of 2020, 4,167 economic entities of the economy were registered in the city. There are 43 large and medium — sized industrial enterprises producing a wide variety of products on the territory of the city. Leading branches of mechanical engineering: engine building, shipbuilding, power engineering, instrument making, electrical equipment and cable production, road construction and special equipment.
The postage stamp depicts the monument of archeology "Ust-Sheksna", a panorama of the city with the Transfiguration Cathedral, the Rybinsk Museum-Reserve.
Artist-designer: M. Bodrova.
Nominal value: 50 rubles.
Stamp size: 42×30 mm, sheet size: 146×174 mm.
Form of issue: a sheet with decorated fields of 15 (3×5) stamps.
Circulation: 135 thousand stamps (9 thousand sheets).
Sheet:
In addition to the issue of the postage stamp, envelopes of the first day were issued and special postmarks were made for Moscow and Rybinsk, Yaroslavl region.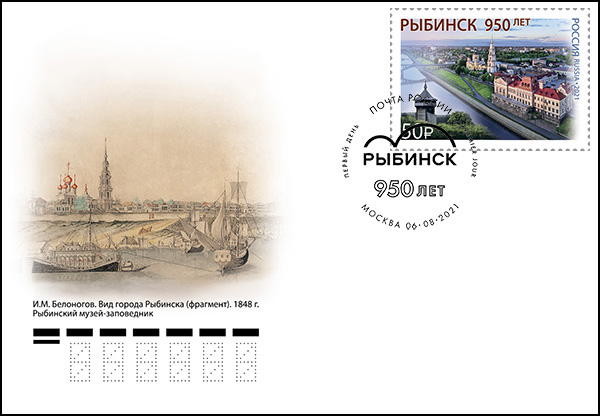 Special cancellation marks: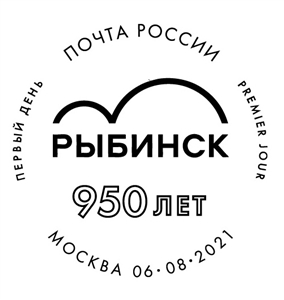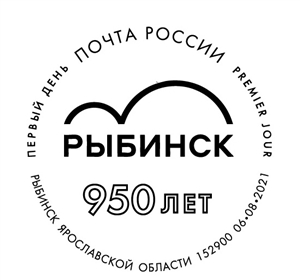 ---