Александр Старостенко
Saturday, August 7, 2021
650 years of Vereya of the Moscow region
On August 7, a stamp dedicated to the 650th Anniversary of Vereya of the Moscow Region was put into postal circulation
Vereya is a town in the Naro-Fominsk urban district of the Moscow Region of Russia. The population is 5,088 people (2020). It is the smallest town in the Moscow Region. Vereya is a Town of Military Prowess. The town is located on the right bank of the Protva (Oka basin), in the western neighborhood of the Moscow Region. Vereya was first mentioned in 1371 with reference to the march on Moscow of Duke of Lithuania Algirdas. Late in the 14th century, a fortified settlement was established with earthworks and a wooden fortress, which retained its defense significance until the 17th century.
In the 17th century, Vereya gradually changed from a fortress city into a trading and handicraft town and reached its zenith in the 18th centuries when the city became a large handicraft and trading center. From 1782, Vereya was a chief town of a district of the Moscow Province, and by the end of the century, it became one of the largest cities of a uyezd of the Moscow Province by the number of residents. In the second half of the 19th century, Vereya was gradually losing its commercial importance and turned into a small chief town of a uyezd. People in the town were engaged in trading and horticulture. At the end of the 19th century, mineral springs and limestone deposits were discovered near Vereya. In 1913, in celebration of the Centenary of Victory in the Patriotic War of 1812, a monument to General I.S. Dorokhov (who is buried in the city), the first liberator of the city in 1812, was opened in the presence of the of the royal family members.
Vereya is one of the most picturesque small towns of outer Moscow. The attractions include the remains of the ancient Kremlin or a settlement located on a high river cape formed by the river and ravines.
By the Resolution of the Moscow Regional Duma of April 28, 2016, Vereya was awarded the honorary rank of the Moscow Region Town of Military Prowess.
The postal stamp provides images of the Cathedral of the Nativity of Christ, a monument to General I.S. Dorokhov and a copy of the monument to the Warrior-Liberator by E.V. Vuchetich, which the sculptor donated to the town.
Design Artist: N. Karpova.
Face value: 50 rubles.
Stamp size: 42×30 mm, sheet size: 146×174 mm.
Emission form: a sheet with formatted margins with 15 (3×5) stamps.
Quantity: 135 thousand stamps (9 thousand sheets).
Sheet:
In addition to the issue of the postal stamp, JSC Marka will produce First Day Covers and special cancels for Moscow and Vereya of the Moscow Region.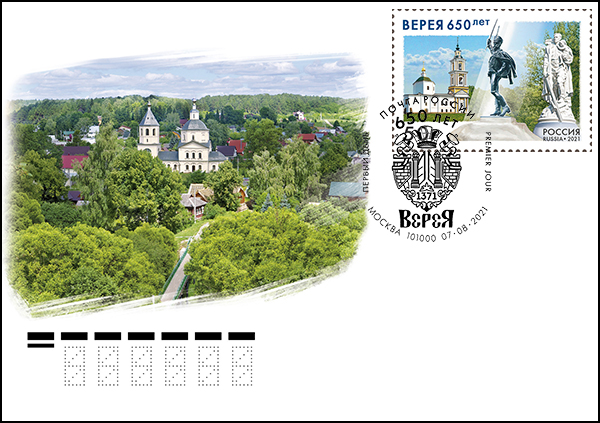 Special cancellation marks: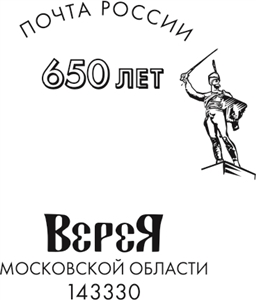 ---