Александр Старостенко
Thursday, August 19, 2021
Series "Monasteries of the Russian Orthodox Church" 800 years of the Annunciation Monastery in Nizhny Novgorod
On August 19, a stamp dedicated to the 800th anniversary of the Annunciation Monastery in Nizhny Novgorod went into postal circulation
The Annunciation Monastery in Nizhny Novgorod is a majestic monastic ensemble of white-stone churches, located on the right bank of the Oka. It is believed to be founded in 1221 by Faithful Great Prince Georgy Vsevolodovich and St. Simon, the Bishop of Vladimir, during foundation of Nizhny Novgorod. In 1229, the monastery was attacked by Mordovan Prince Purgas; it was completely ruined and burned down by the pagan prince and ceased its activities for more than a century. Through the efforts of Metropolitan Alexey, a white-stone single-dome Annunciation church was built in 1370 and consecrated in 1371 in the Nizhny Novgorod Annunciation monastery.
In the 17th century, the church was reconstructed. The main holy thing of the monastery was acknowledged to be the Korsun Icon of the Blessed Virgin Mary donated to the brethren of the born-again abode by St. Alexey.
In 1764, by the decision of the Holy Synod, the Annunciation monastery was transferred under the direct management of the Bishop of Nizhny Novgorod and Arzamas. In the mid-19th century, the most significant event in the history of the monastery was the construction of a new Alekseevskaya church (1837) and a new stone chapel-over-the-well (1847) in the name of Saint Alexey, Metropolitan of Moscow and the patron saint of the Annunciation monastery.
After the October Revolution, the monastery was closed in 1919. In 1960, the monastic ensemble was taken under state protection as a monument of architecture, but all of its buildings remained in dilapidation. Over the period of 1970-1980, a partial restoration of several buildings of the monastery began, in the first instance, of the Annunciation Cathedral. In 1987, the restoration works were completed.
In 1991, the ancient monastery was returned to the Nizhny Novgorod eparchy, the church life resumed in its walls, divine services began to be administered. September 25, 1993, is regarded the official date of opening of the Annunciation Monastery.
The postal stamp provides a general view of the monastery and a picture of Saint Alexey, the patron saint of the monastery.
Design Artist: S. Ulyanovsky.
Face value: 50 rubles.
Stamp size: 65×32.5 mm, sheet size: 154×190 mm.
Emission form: a sheet with formatted margins (2×5) with 9 stamps and a coupon.
Quantity: 126 thousand stamps (14 thousand sheets).
Sheet:
In addition to the issue of the postal stamp, JSC Marka will produce First Day Covers and special cancels for Moscow and Nizhny Novgorod.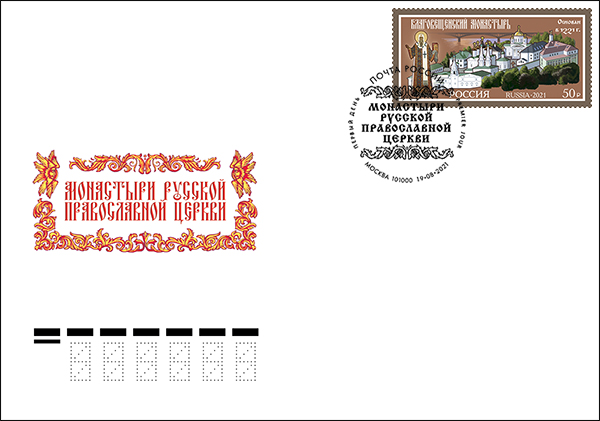 Special cancellation marks: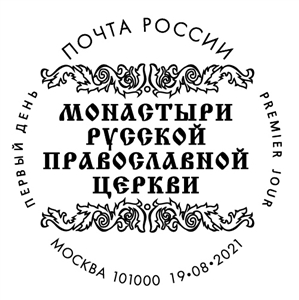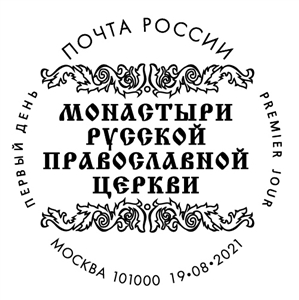 ---