Александр Старостенко
Tuesday, August 31, 2021
History of Domestic Tank Construction. Uralvagonzavod Concern.
On August 31, as part of the series "The History of Domestic Tank Construction", four stamps dedicated to tanks produced by the Uralvagonzavod Concern went into postal circulation.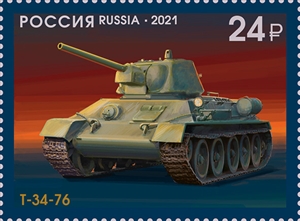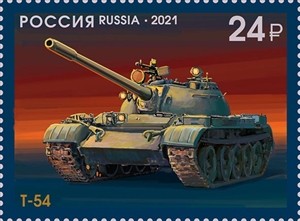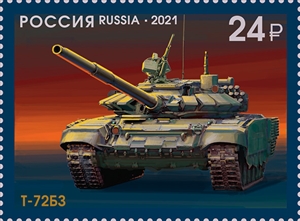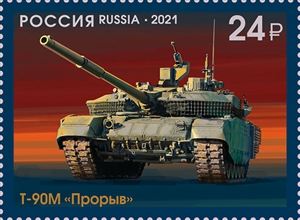 The history of tank construction in Russia began in 1920-1921, when the first domestic samples were developed at the Krasnoe Sormovo plant in Nizhny Novgorod on the basis of the captured French Renault tank. In the early 1930s, the main design centers of the Soviet tank building were formed in Moscow, Kharkov and Leningrad. It was supposed to supply the army with new light tracked, wheeled-tracked, medium and heavy tanks in a short time. In the post-war period, new models with more powerful weapons, reliable protection and increased maneuverability are being developed. Currently, tank formations remain the main striking force of the Ground Forces of the Armed Forces of the Russian Federation.
JSC "Scientific and Production Corporation "Uralvagonzavod" named after F. E. Dzerzhinsky " is a Soviet and Russian corporation engaged in the development and production of military equipment, road construction machines, railway cars. The corporation includes research institutes, design bureaus and manufacturing enterprises. The main enterprise is the Uralvagonzavod plant, located in Nizhny Tagil, Sverdlovsk region.
The postage stamps depict tanks produced by Uralvagonzavod:
- T-34-76 - Soviet medium tank series. It was adopted in 1939. It was mass-produced in 1941-1944. The most massive tank of the Red Army during the Great Patriotic War;
- The T-54 is a Soviet medium tank. It was developed taking into account the combat experience of the Second World War. It was adopted by the Soviet Army in 1946. It was serially produced in 1947-1958 in various modifications;
- T-72B3 is a Russian main battle tank. The result of a deep modernization of the T-72B. It was adopted and put into mass production in 2012. The winner of the tank biathlon;
- The T-90M "Breakthrough" is a Russian main battle tank. It has a number of innovations applied in the machines of the Armata platform. He successfully passed military tests in 2019. It was put into mass production.
Artist-designer: R. Komsa.
Nominal value: 24 rubles.
Stamp size: 50×37 mm; sheet size: 170×143 mm; small sheet size: 170×177 mm.
Form of issue: sheets with decorated fields (3×3) of 8 stamps and a coupon; a small sheet of 12 (3×4) stamps.
Circulation: 104 thousand stamps (13 thousand sheets each); small sheet — 17 thousand.
Mini sheet: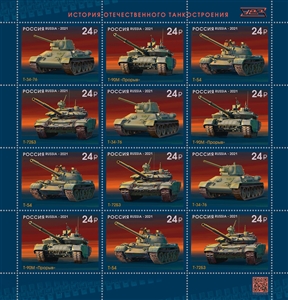 Sheets: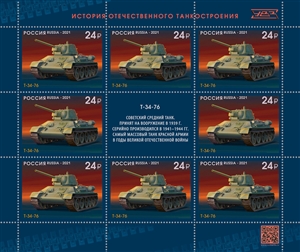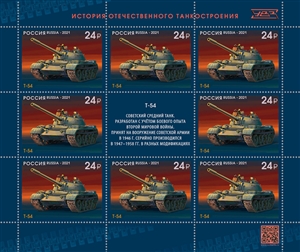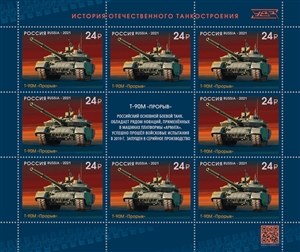 In addition to the issue of postage stamps, envelopes of the first day were issued and special postmarks were made for Moscow, St. Petersburg, Yaroslavl, Yekaterinburg and Nizhny Tagil of the Sverdlovsk region, as well as an artistic cover, inside — postage stamps, a vignette, an envelope of the first day with a cancellation for Moscow.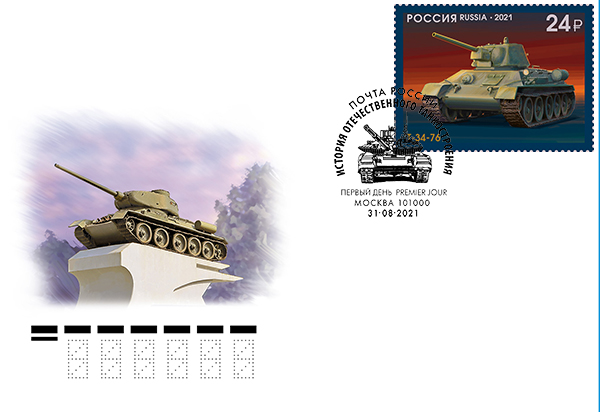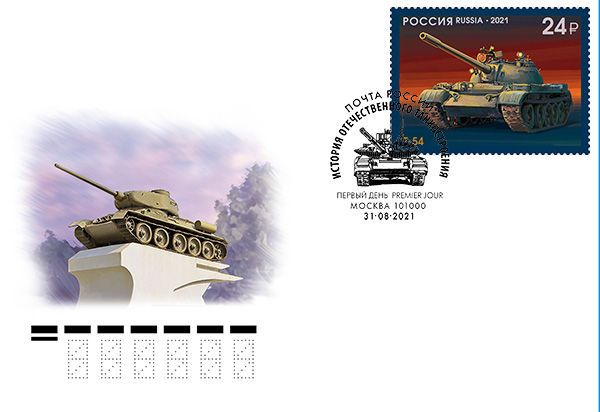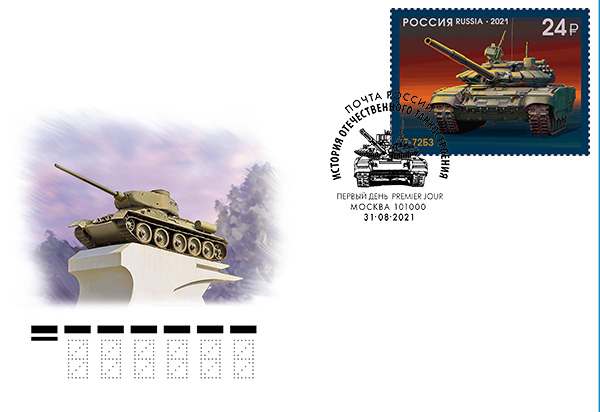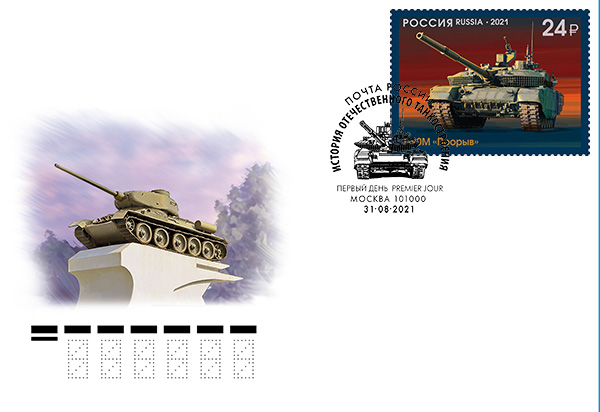 Special cancellation marks: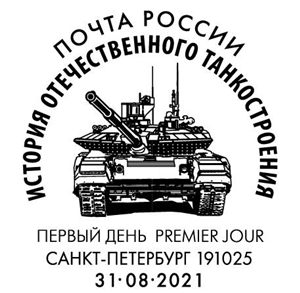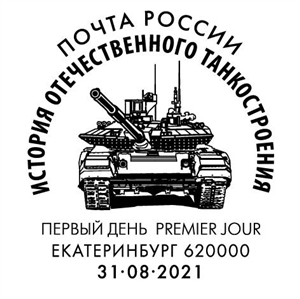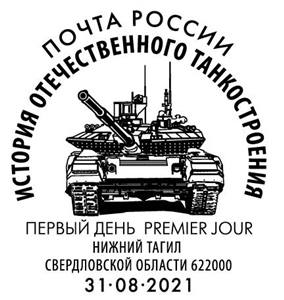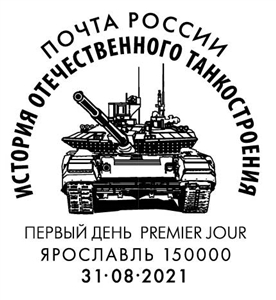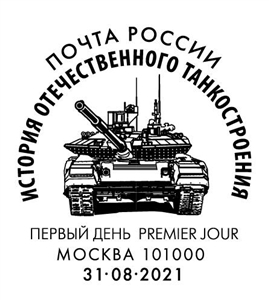 Souvenir packs in cover:
---