Александр Старостенко
Wednesday, September 15, 2021
Series "History of Russian diplomacy" 300 years of the Nishtadsky peace Treaty
On September 15, a postage stamp dedicated to the 300th anniversary of the Nishtadt Peace Treaty was issued
The Peace of Nishtadt was a peace treaty between the Russian Kingdom and the Swedish Empire that ended the Northern War of 1700-1721. It was signed on August 30 (September 10), 1721 in the city of Nishtadt (now Uusikaupunki is part of Finland). It was signed on the part of Russia by Field Chief General Yakov Bruce and diplomat Andrei Osterman, on the part of Sweden-by diplomat Johan Lillienstedt and Second Minister Otto Stremfelt.
The treaty changed the Russian-Swedish border, previously fixed by the Stolbovsky Peace Treaty of 1617. Sweden recognized the annexation of Livonia, Estonia, Ingermanland, part of Karelia (the so-called Old Finland) and other territories to Russia. Russia has pledged to return Finland occupied by it to Sweden and pay monetary compensation. It was ratified on September 9 (20). On September 10, 1721, celebrations were held in Moscow on the occasion of the Peace of Nishtadt. The victory in the Northern War put Russia among the largest European states.
In 1735, to commemorate the 25th anniversary of the victory of Russian troops over the Swedes near Poltava in the Northern War, won on the day of St. Sampson the Pilgrim, a fountain "Samson" (full name-"Samson tearing the lion's mouth") was installed in Peterhof. The sculptural group, cast from lead according to the model of B. K. Rastrelli and installed in a bucket in 1735, lost its luster by the end of the XVIII century due to the fragility of lead. In 1802, it was replaced by a bronze sculpture created by M. I. Kozlovsky, who retained the original idea and composition. During the Great Patriotic War, the Samson was lost. After the liberation of Leningrad, the sculptor V. L. Simonov and his assistant N. V. Mikhailov recreated the monument from pre-war photographs and old images. The new "Samson" was installed on a pedestal in 1947, becoming not only a symbol of victory over the enemy, but also a world-famous business card of Peterhof.
The postage stamp depicts the fountain "Samson", located on the territory of the State Museum-Reserve"Peterhof".
Artist-designer: S. Kapranov.
Nominal value: 56 rubles.
Stamp size: 50×50 mm, sheet size: 170×130 mm.
Form of issue: a sheet with decorated fields of 6 (3×2) stamps.
Circulation: 84 thousand stamps (14 thousand sheets).
Sheet:
In addition to the issue of the postage stamp, envelopes of the first day were issued and special postmarks were made for Moscow and St. Petersburg.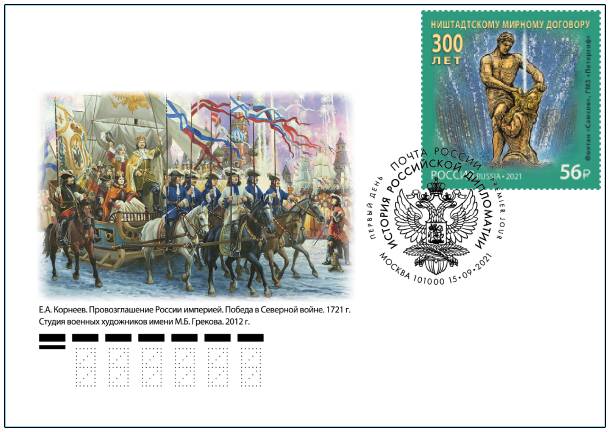 Special cancellation marks: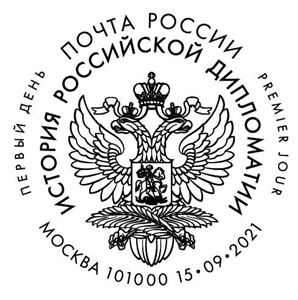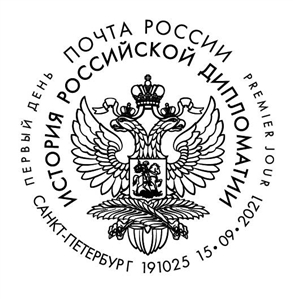 ---