Александр Старостенко
Tuesday, October 5, 2021
100th Anniversary of the House-Museum of Anton Chekhov in Yalta
On October 4, a stamp dedicated to the 100th Anniversary of the House-Museum of Anton Chekhov in Yalta will go into postal circulation
The House-Museum of Anton Chekhov is situated in Yalta, where the writer spent the last 6 years of his life. Having moved from Moscow to the Crimea for health reasons the writer bought a plot of land in Yalta where a garden was laid out and a house was built upon the project of architect L. Shapovalov. In that house, in the years of 1899–1904, Anton Chekhov wrote many famous works: plays Three Sisters and The Cherry Orchard, novella In the Ravine, stories The Lady with the Dog, The Bishop, At Christmas Time and The Bride.
The Anton Chekhov's house received the official status of a museum in 1921. Chekhov's sister Maria was appointed its supervisor.
In 1966, a literature exhibition opened on the territory of the museum in a specially built building designed by architect Z.V. Peremilovsky. In 1974-1980, the House-Museum of Anton Chekhov in Yalta was closed for restoration. In 1983, new literature exhibition A. Chekhov's Life and Writing opened. Presently, the House-Museum of A. Chekhov in Yalta State-Funded Institution is under the charge of the Ministry of Culture of the Republic of Crimea.
The postal stamp provides an image of the House-Museum of Anton Chekhov in Yalta.
Design Artist: N. Karpova.
Face value: 50 rubles.
Stamp size: 50×37 mm, sheet size: 170×174 mm.
Emission form: a sheet with formatted margins with 12 (3×4) stamps.
Quantity: 132 thousand stamps (11 thousand sheets).
Sheet: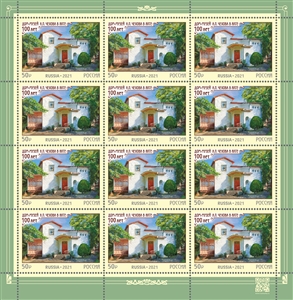 In addition to the issue of the postal stamp, JSC Marka will produce First Day Covers and special cancels for Moscow and Yalta of the Republic of Crimea.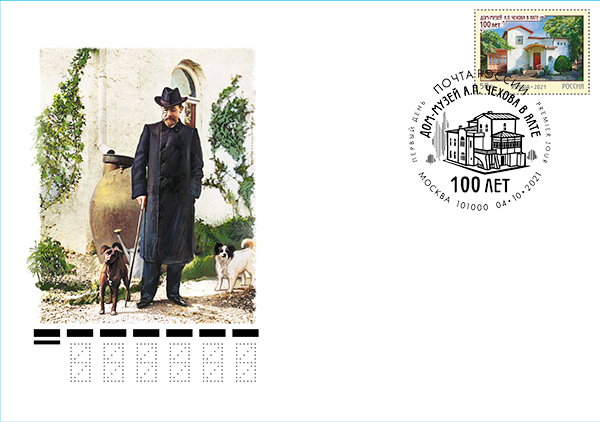 Special cancellation marks: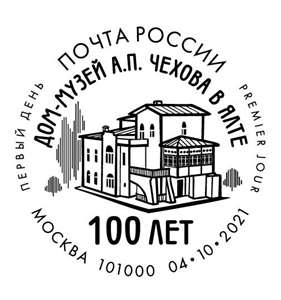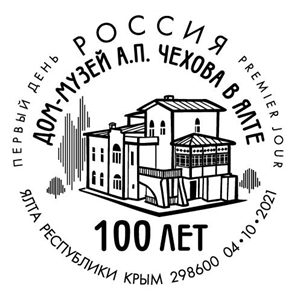 ---