Александр Старостенко
Thursday, October 14, 2021
Series "Monasteries of the Russian Orthodox Church" Holy Trinity Novo-Golutvin Convent
On October 14, a stamp dedicated to the Holy Trinity Novo-Golutvin Convent will go into postal circulation in the Monasteries of the Russian Orthodox Church series
The Holy Trinity Novo-Golutvin Convent is a nunnery of the Kolomna eparchy of the Russian Orthodox Church in a town of Kolomna.
The territory of the monastery houses the still-standing Trinity and Protection churches, a bell tower and stone chambers. On the lower floor of the Trinity Church, a sanctuary in honor of St. Blessed Xenia of St. Petersburg was arranged. In 2002, a chapel was built in honor of the Holy Great Prince Vladimir, Equal of the Apostles, and Saint Anastasia of Sirmium.
Today, more than 80 conventuals and nuns from Russia, Kazakhstan, Ukraine and Belarus live in the Convent. An Orthodox Medical Center named after St. Blessed Xenia of St. Petersburg is open in the Convent where patients are seen by nuns with medical background. Besides, there are a small xenodochium for pilgrims and a frater.
The postal stamp shows the monastery general view and a portrait of St. Blessed Xenia of St. Petersburg, especially revered in the Convent.
Design Artist: S. Ulyanovsky.
Face value: 50 rubles.
Stamp size: 65×32.5 mm, sheet size: 154×190 mm.
Emission form: a sheet with formatted margins (2×5) with 9 stamps and a coupon.
Quantity: 126 thousand stamps (14 thousand sheets).
Sheet:
In addition to the issue of the postal stamp, JSC Marka will produce First Day Covers and special cancels for Moscow and Kolomna of the Moscow Region.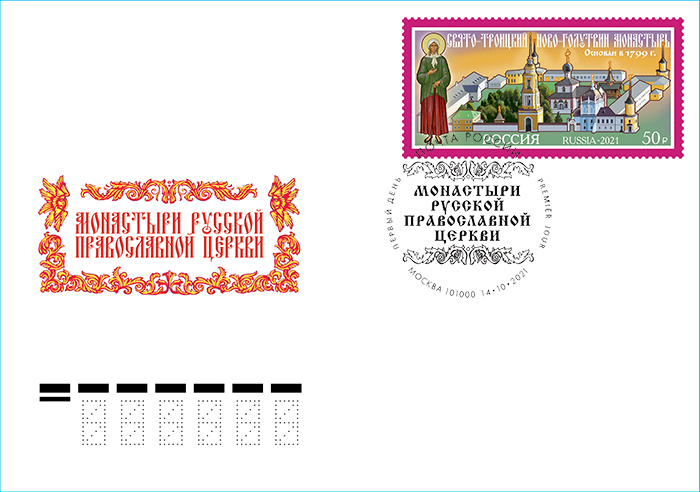 Special cancellation marks: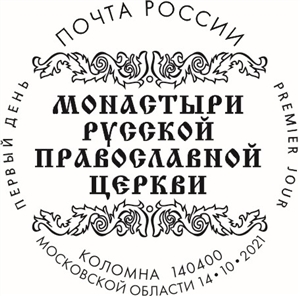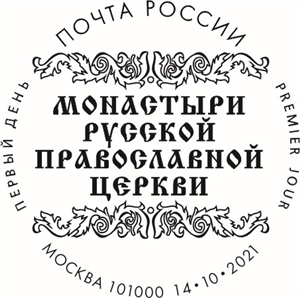 ---