Александр Старостенко
Tuesday, December 14, 2021
100 years of the Republic of Dagestan
On December 10, a postal block dedicated to the 100th Anniversary of the Republic of Dagestan was put into postal circulation
The Republic of Dagestan was established on January 20, 1921, as an Autonomous Republic in the composition of the RSFSR. It forms a part of the North Caucasian Federal District and is a member of the North Caucasian Economic Region. The area is 50.27 thousand sq. km. The population is 3 133 303 (2021). The capital of the Republic is Makhachkala. Nowadays, the defining sectors of the economy of Dagestan are agriculture, winemaking, fishing, arts and crafts (including carpet weaving), oil and natural gas recovery, consumer goods manufacturing and chemical industry, mechanical engineering and electric power generation. There are 1,200 buildings acknowledged as monuments of architecture in Dagestan, and 40 of them are monuments of federal significance. Among them, there are also UNESCO World Heritage Sites.
Owing to the abundance and variety of spectacular landscapes, the availability of mineral springs and therapeutic muds, fine climate, an extensive sandy beach strip on the Caspian coast, warm sea, ionized air, historical and natural monuments, authentic culture and art of the peoples, Dagestan is a promising region for tourism development.
The postage stamp provides inscription "100 years of the Republic of Dagestan". The margins of the block feature the coat of arms of the Republic of Dagestan and the national ornament; the Naryn-Kala fortress in Derbent; the defensive tower in Itsari; an arch of Uytash airport; the central Juma mosque and the Kumyk theater named after A.P. Salavatov in Makhachkala; the Avarian Music and Drama Theater named after Gamzat Tsadasa; the Partu Patima monument in the village of Kumukh of the Lakia District; the Vatan museum complex in Khitsib; and the Chirkey Hydroelectric Power Plant.
Design Artist: I. Ulyanovsky.
Face value: 100 rubles.
Block size: 135×88 mm, stamp size in the block (diam): 33 mm.
Quantity: 27 thousand blocks.
In addition to the issue of the postal block, JSC Marka will produce First Day Covers and special cancels for Moscow and Makhachkala.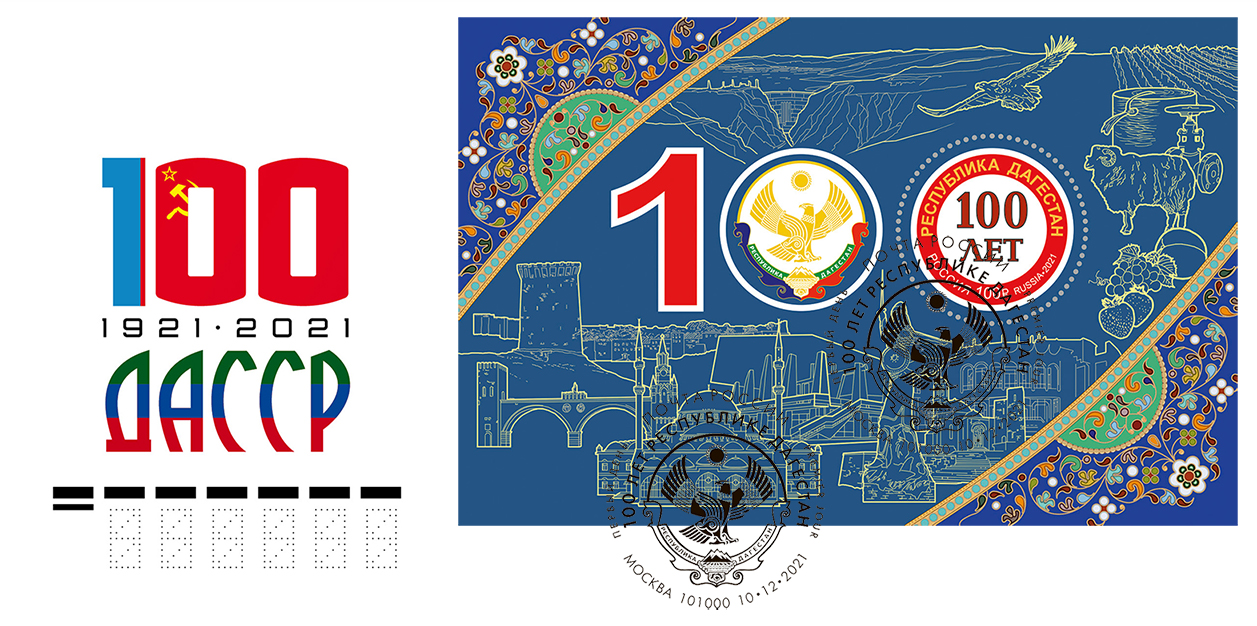 Special cancellation marks: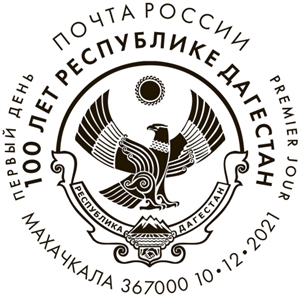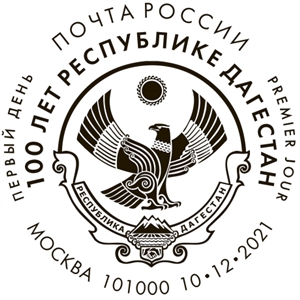 ---