Александр Старостенко
Saturday, December 18, 2021
Painters - Moscow
On December 14, block of four Artists for Moscow devoted to the 875th Anniversary of Moscow was put into postal circulation
Moscow is the capital of Russia, the largest city in the country in terms of population, a hero city. With its historic buildings, streets and monuments, the city used to attract and is still attracting famous artists from around the world, who picture of the city in all its beauty in their paintings.
The postage stamps provide reproductions of the following pictures:
— Kremlin. Sketch (1903) by K.A. Korovin, (Tyumen Museum-Educational Association).
Konstantin Korovin was a painter, theater artist, educator and writer, academician of painting;
— Nebozvon. Decorative Moscow (1915) by A.V. Lentulov (Yaroslavl Art Museum).
Aristarkh Lentulov was a painter, theater artist, one of the pioneers of the Russian avant-garde;
— The Red Square in Moscow (1801) by F.Ya. Alexeev (State Tretyakov Gallery).
Fyodor Alexeev was a painter, one of the founders of the Russian urban landscape, the greatest master of Russian veduta, an Academician of the Imperial Academy of Arts;
— Moscow at Night (1999) by N.I. Borovskoy.
Nikolai Borovskoy is the Chairman of the Moscow Branch of the Union of Artists of Russia, People's Artist of the Russian Federation, Academician and a member of the Presidium of the Russian Academy of Arts.
Design: O. Savina.
Face value: 25 rubles.
Block of four size: 120×135 mm, stamp size in the block of four: 50×50 mm.
Quantity: 40 thousand blocks.
In addition to the issue of the block of four, JSC Marka will produce First Day Covers and a special cancel for Moscow.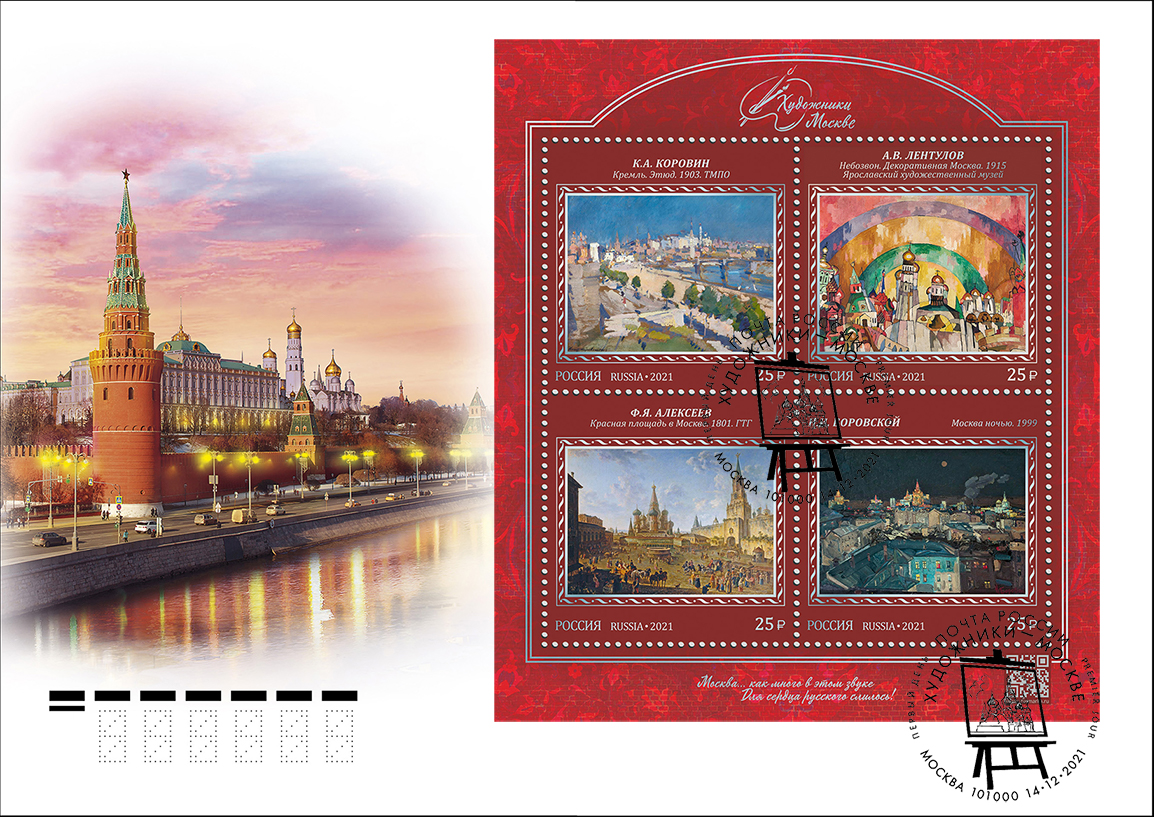 Special cancellation marks: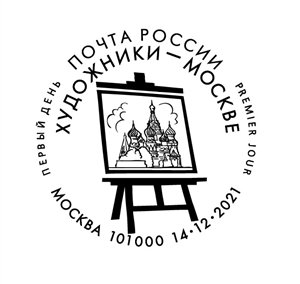 ---