Илья Старостенко
Monday, May 2, 2022
State awards of the Russian Federation. Order of Merit in Culture and Art
On April 29, a stamp dedicated to the Order of Merit in Culture and Art was put into postal circulation in the State Awards of the Russian Federation series
State awards of the Russian Federation are the highest form of encouraging nationals for transcendental merits to the Homeland defense, nation-building, economy, science, culture, Arts, upbringing, education, protection of citizens' health, life and rights, charity activities and other achievements for the state. The state awards are instituted and granted by the President of the Russian Federation.
The Order of Merit in Culture and Art is a state award of the Russian Federation instituted in 2021. The Order is granted to citizens for the following: creation of theatrical plays, films and TV films, literary and musical compositions, concert and circus programs, TV and radio programs, works of monumental and decorative and applied arts that have received wide recognition from general public and professional community; for designing and construction of unique architectural complexes; for the creation of highly artistic images in theater plays and films; for great contribution to the study, preservation and promotion of Russian artistic culture and art as well as cultural heritage of the peoples of the Russian Federation, etc.
The Order for Merit in Culture and Art may be awarded to foreign nationals for active participation in the creative activities of Russian cultural and artistic institutions, for a major contribution to the implementation of joint projects with the Russian Federation in the field of culture and arts.
The postage stamp provides an image of the Order of Merit in Culture and Art.
Design Artist: I. Ulyanovsky.
Face value: 60 rubles.
Stamp size: 32.5×65 mm, sheet size: 150×156 mm.
Emission form: a sheet with formatted margins with (4×2) 7 stamps and a coupon.
Quantity: 84 thousand stamps (12 thousand sheets).
Sheet: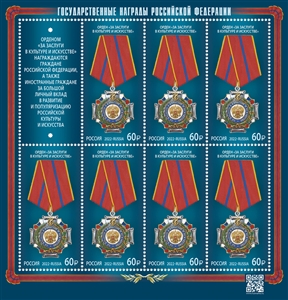 In addition to the issue of the postage stamp, JSC Marka produced First Day Covers and special cancels for Moscow and St. Petersburg.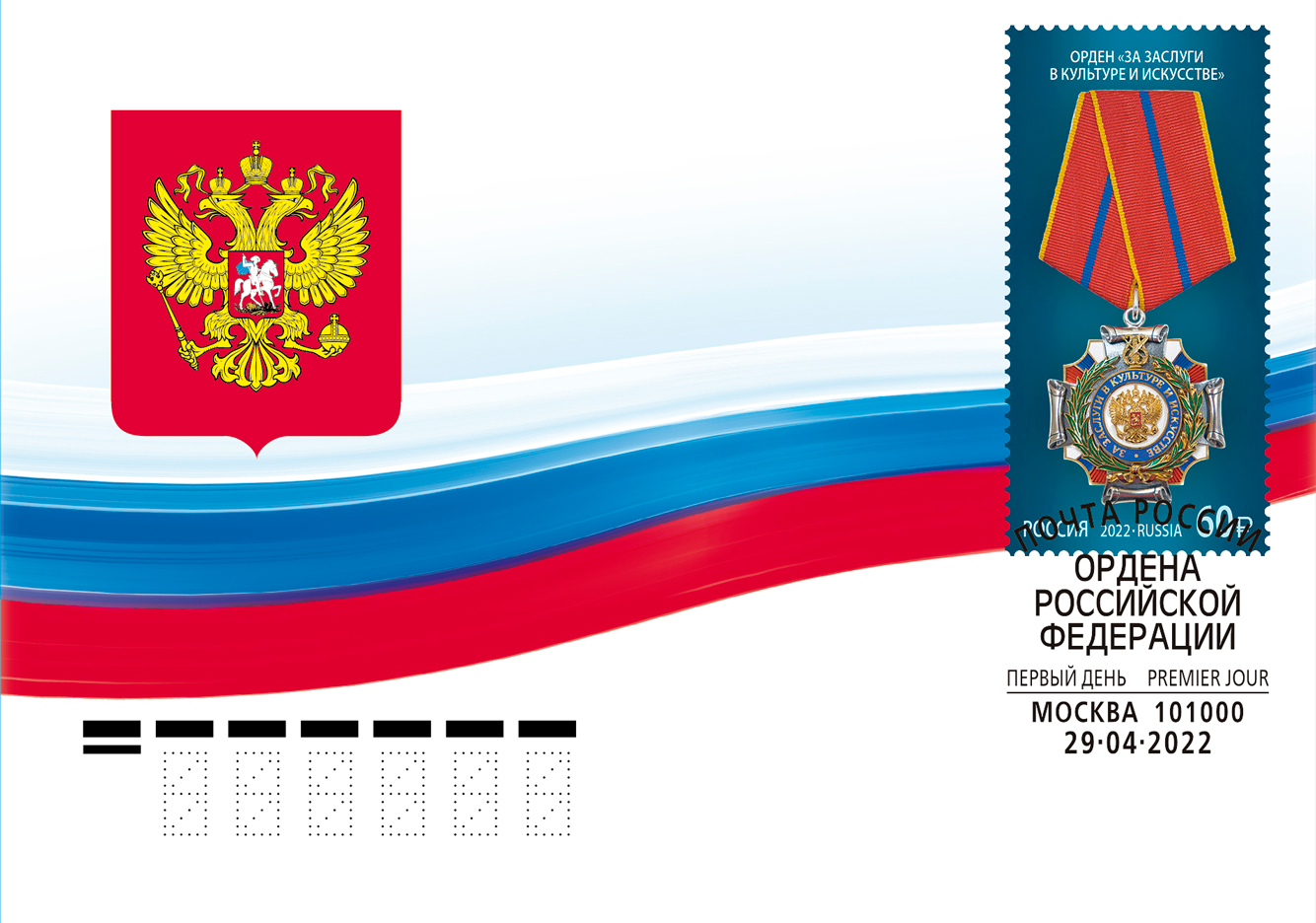 Special cancellation marks: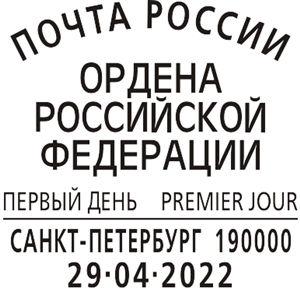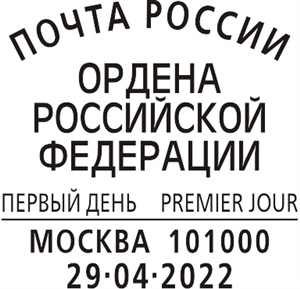 ---