Александр Старостенко
Thursday, June 23, 2022
The "Coats of arms of constituent entities and cities of the Russian Federation" series. Khanty-Mansi Autonomous Okrug - Yugra
On June 23, a postal block dedicated to the Khanty-Mansi Autonomous Okrug – Yugra was put into postal circulation in the Coats of Arms of Constituent Entities and Cities of the Russian Federation series
The Khanty-Mansi Autonomous Okrug – Yugra is a Constituent Entity of the Russian Federation formed in 2003 as part of the Tyumen Region.
The coat of arms of the Khanty-Mansi Autonomous Okrug - Yugra was adopted on December 24, 2020. "In a the field of dissected azure and green shield there is a 'Kat uhup howl' silver bird with two eagle-like heads on long necks, four arms and a peacock-like tail visible between the heads and necks and widely cut in the colors of the field; the shield is topped by a golden regional crown with seven visible teeth, the middle of them being crowned with flames, and with a belt of national ornament on the band; the shield-holders are two golden bears with black eyes and noses, supporting two golden flagpoles with the state coats of arms of Khanty-Mansi Autonomous Okrug - Yugra on a foot of green cedar branches with green cones; the motto GREAT IN DEEDS is inscribed in silver letters on an azure ribbon".
The coat of arms of the city of Khanty-Mansiysk was approved by a decision of the City Duma of October 25, 2002. The central part of the coat of arms is a composition of four symbols, placed on a bright blue (azure) background. The background symbolizes the sky and water. A half-sphere arc symbolizes the sun and the hills, washed by the waters of the Irtysh and the Ob. The blue background above the hemisphere features three snowflakes (indicative of northern cities and a long snowy winter). On the background of the golden hemisphere there are three emerald-colored spruces, the side spruces are represented as chums; the golden color symbolizes wealth, justice, and generosity. The emerald color symbolizes the taiga surrounding the city. A symbolic white bird (white crane) with outspread wings as if covering the entire sphere on the emerald green background at the bottom of the coat of arms symbolizes purity and uniqueness of the geographical position of the city.
The postage stamp provides an image of the coat of arms of the city of Khanty-Mansiysk; the margins of the postal block feature the coat of arms of the Khanty-Mansi Autonomous Okrug - Yugra and the map of the Russian Federation.
Design Artist: A. Moskovets.
Face value: 120 rubles.
Block size: 90×60 mm, stamp size in the block: 30×42 mm.
Quantity: 25 thousand blocks.
In addition to the issue of the postal block, JSC Marka produced First Day Covers and special cancels for Moscow and Khanty-Mansiysk.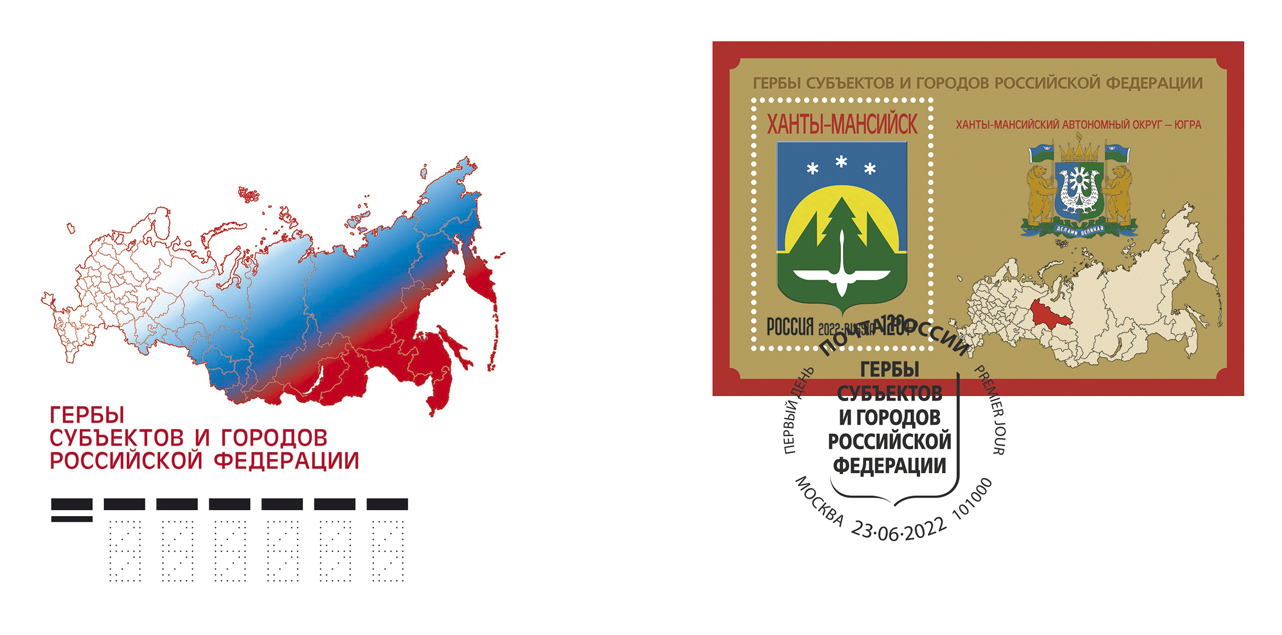 Special cancellation marks: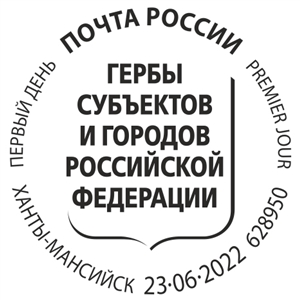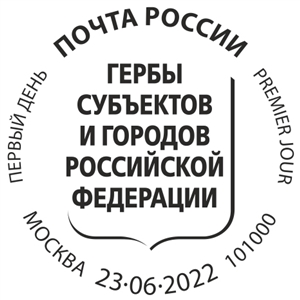 ---